Home » News » Vaulting to the top of the class
Vaulting to the top of the class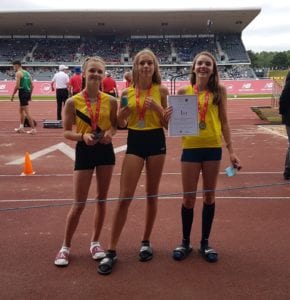 Competing at the pinnacle of English School sports two Lewes AC pole vaulters finished top of their class.
Emilie Oakden won the gold medal with a championship and personal best vault of 3.62m. This puts Emilie third on the all-time UK rankings. Currently top of UK rankings is another Lewes AC athlete Gemma Tutton with a leap of 3.81m. Knowing this Emilie's last vault attempt was 3.82m a height that Emilie just narrowly missed clearing. Watch out Gemma Emilie is gunning for you!
In second place and winning a magnificent silver medal was Emelia Hatchard who equalled her personal best vault of 3.30m.
Showing the depth of pole vaulting at the Lewes club Maddy Bullen finished in eighth place. With three Sussex athletes in the top eight this is a fantastic performance as the Championships are for the very best young athletes from across all schools in England.