Home » News » Josh Burgess – World Champion!
Josh Burgess – World Champion!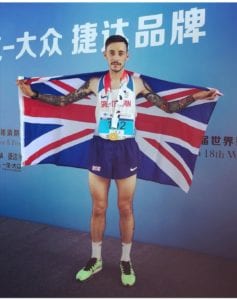 Josh Burgess, a long time member of the club, travelled to Chengdu China to take on the world's best from all the police and prison services across the globe.
Running against competitors from over 65 countries Josh won the cross county event by over 12 seconds to claim the gold medal. The race took place on Sunday 11th August in a temperature of over 35 degrees C. This was even hotter than the UK's hottest day this year and even hotter than forecast for the UK August Bank Holiday. Phew.
The Games take place every two years with over 10,000 athletes taking part in all sports. Two years ago Josh went to LA to compete in the same world championships. At that time he again had a fantastic cross country race and came away with the bronze medal. This year there was no beating him. Congratulations!!