Home » News » A wet and windy record breaking run by David Prince-Isles
A wet and windy record breaking run by David Prince-Isles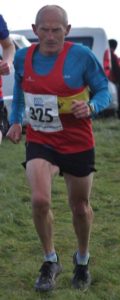 Despite a weekend of wind and rain there were some great results by Lewes AC runners taking part in tough multi-terrain races across the Sussex Downs. Running in the South Downs Way 50 mile event from Worthing to Eastbourne David Prince-Isles smashed the course record for men aged over 60 with a time of 8 hours 14.38. Also competing in this challenging event were Ruth Wray and Fran Witt who finished just a second apart with times of 11.26.10 and 11.26.11.
Equally as challenging was the Beachy Head Marathon where 14 Lewes AC took part over the 26+ miles.  With a fantastic under 3 hour run and finishing in second place was Will Green aged over 40 with a time of 2hours 54.32. Just three minutes behind in third place was another Lewes AC club member James Turner with a time of 2.57.47.
The other men club members completing the course and their positions and times were Toby Meanwell ( 23rd 3.25.10); Leo Spall ( 43rd 3.39.42); Mark Cage (139th 4.13.51); Nick Roe (437th 4.59.15); Richard Moore (744th 5.46.25); Colin Hartland (774th 5.34.39); Mark Pappenheim (886th 6.12.49)
There were also some great performances and times from the Lewes AC women runners with Lydia Godfrey the first Lewes AC woman finishing in 164th place with a time of 4 hours 19.51. This time placed Lydia 17th women in the race. Behind Lydia was Tara Twyman (438th 4.59.15); Anita Amies (790th 5.54.26); Ann Hagan (885th 6.12.45)and Jazz Shiret (1017th 6.46.34)
Also taking place on a wet and windy day was the Beachy Head Half Marathon where six Lewes AC members battled the weather. There was another great second place in the race with Jason Lee finishing with a time of 1hour 23.33. Close behind was Will Monnington in 4th place with a time of 1.26.29. Adam Vaughan also had a great run to finish in 7th place with a time of 1.28.32.
Finishing in 48th place was Tony Deacon an over 50 runner with a time of 1.45.53. Telmo Ferreira with a time of 1.51.08 finished in 92nd place and Carl Dowling with 1.55.24 finished in 134th place.