Home » What We Do » Summer Camp
LEWES ATHLETIC CLUB SUMMER CAMPS 2021
Two Camps: 26th-28th July and 23rd-27th August
BOOKINGS NOW OPEN and are open to both Lewes AC Members (and those on the waiting list) and Non-Members.
This year we are delighted to offer two Summer Camps for young people in Years 3 – 7.  The first Summer Camp in July is for 3 days, and then one in late August is for 5 days.
There will be the opportunity to Run, Jump and Throw. Each event is coached by the club's qualified athletics coaches with the opportunity to, partake in activities such as discus, long jump, pole vault, sprinting and many more.
Camp t-shirts and water bottles are included for everyone.
Activities take place from 10.00am to 3.00pm each day and take place at the Lewes Athletic Track, Mountfield Road, Lewes, BN7 2XG
Costs: £60 for the 3 day July Summer Camp; £90 for the 5 day August Summer Camp.
LEWES AC MEMBERS or your child is on our WAITING LIST: please login to LOVE ADMIN and go to the EVENTS page.
NON-MEMBERS: you can book as a temporary member also via LOVE ADMIN
You can view photos of the Summer Camp from previous years in our Galleries section or on our Facebook page Lewes Athletics Summer camp.
Any queries please contact us on summercamp@leweac.co.uk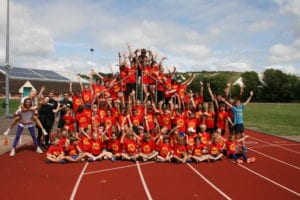 .